Atelier « Fabrication de bougies de cire d'abeilles »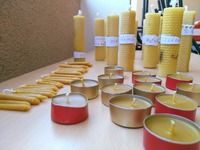 https://www.larcenmiel.fr/ateliers?fbclid=IwAR0_hXaxDktOjti8a5z36IC8ap7EmFGWIX8HIc3PEBGZmN7diVxVCriglh8
Thursday
24
Oct
Jeudi de 10h à 12h30
A la découverte d'un matériau naturel sain, de sa fabrication naturelle par les abeilles jusqu'à son utilisation ! Guidé par l'apicultrice, chacun met en oeuvre des techniques simples pour réaliser 4 types de bougies à base de cire 100% abeilles. ​
This workshop is suitable for all, adults, teenagers and children from 5 years old.
At the end of the workshop, everyone takes home his or her creations (3 to 4 types of candles).  
Maximum 12 persons per workshop.
Duration: 2 h 30.
https://www.larcenmiel.fr/ateliers?fbclid=IwAR0_hXaxDktOjti8a5z36IC8ap7EmFGWIX8HIc3PEBGZmN7diVxVCriglh8
Prices
Min
Max
Description
11 €
GPS : 43.9463 , 2.8747.