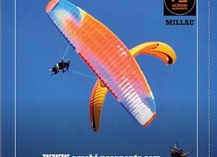 1369 avenue de Millau Plage
Avenue de Millau Plage
Atterrissage de Millau Plage
Partez à la découverte de la 3ème dimension avec une équipe de moniteurs passionnés confirmés : vol découverte, en ascendances, de distance, acrobatique, il y en a pour tous les goûts ! Accessible de 4 à 85 ans et de 20 à 120 kg. N'hésitez plus !
Come enjoy a unique view and a feeling of freedom that only paragliding will provide you. An unforgettable experience ... And without Vertigo!
Discovery flights on Millau, its viaduct and its large Causses.
Several flight formulas according to age and desires:
quiet discovery for children: 60 €
- Lift for adults: 90 €
-acrobatic for the edgy ones: 110 €
- duration and distance for regulars: 160 € or 210 €
- wheelchair adapted for the disabled (idem)
 Photos and videos on optional SD card: 25
 On reservation from April 1st to October 31st
informations&reservations
présentation vol en biplace
Acrobi Parapente
Acrobi Parapente
Jeff Thurel
Acrobi Parapente
Acrobi Parapente
Acrobi Parapente
GPS : 44.11517009444959 , 3.0874559126959955.
| Tarifs | Min | Max | Description |
| --- | --- | --- | --- |
| | 60 € | 220 € | |
Acrobi Parapente
Address :
1369 avenue de Millau Plage
Avenue de Millau Plage
Atterrissage de Millau Plage
12100 Millau
Phone :
Spoken languages