Horizon - Millau canyon vert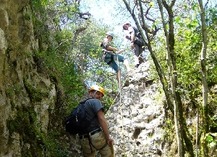 6, Place Lucien Grégoire
Place Foch
Phone : +330672776239
Plusieurs sites de canyon vert à découvrir. Trois jolis canyons à parcourir en groupe ou en famille...
Abseil down the region's dry canyons. The natural erosion of the Causses has produced numerous ravines and dry canyons. Several sites to explore: green canyon at Verrières (first time abseils), a succession of abseils, one of which is 165 feet at the end of the course and zip-line). Other sites close by.
GPS : 44.0973 , 3.078829167.
Tarifs
Min
Max
Description
55 €
Horizon - Millau canyon vert
Address :
6, Place Lucien Grégoire
Place Foch
12100 Millau
Phone :
+330565597860 +330672776239
Spoken languages