Fort cistercien de St-Jean d'Alcas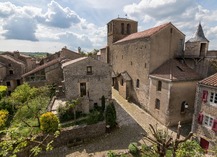 Place de la Mairie
Saint-Jean d'Alcas
12250
Saint-Jean-et-Saint-Paul
Phone : 0659767556
Fax : +330565976107
Le Point Accueil de Saint-Jean d'Alcas vous ouvre ses portes d'avril à septembre. Venez découvrir le fort du village et laissez-vous charmer par ce petit joyau de l'architecture cistercienne.
This fortress was built in 1439 to protect the inhabitants from the Hundred Years' War. Is a little fortress, notable for the regularity of the streets and the houses. You will discover the church, built in the 13th century, the justice house and others curiosities. In the upper parts of the fortress, you will meander in the rampart walk, in a refuge hall and in the abbess house.
Vigine Govignon - OT Larzac et Vallées
Greg Alric - Shootin Factory
GPS : 43.9281 , 3.0054.
Tarifs
Min
Max
Description
3 €
Guided visit single adult
5 €
Guided visit group (per adult)
4 €
Free
/
/
Fort cistercien de St-Jean d'Alcas
Address :
Place de la Mairie
Saint-Jean d'Alcas
12250 Saint-Jean-et-Saint-Paul
Phone :
Fax :
+330565976107
Spoken languages