Horizon - Millau spéléologie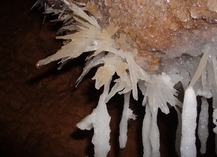 6, place Lucien Grégoire
Place Foch
Phone : +330672776239
Millau et ses Grands Causses comptent de nombreuses cavités de tous niveaux. De la découverte en spéléo horizontale à des sorties plus sportives, laissez-vous guider par nos moniteurs expérimentés et passionnés...
Discovery, Sporty or Grandes Verticales caving.
Discovery: about 2 hours of exploration in a horizontal cavity. With an appropriate suit and a helmet with LED lights, explore the underground caussenard world. (family and children oriented activity). 
Sporty: about 3 hours of exploration in a more vertical cave with some technical passages: abseiling, a little bit of climbing and some ladders. Half-day activity, convivial and accessible!
Grande Verticale: 100 meters deep cavity exploration with more technical concepts, like descent and ascent with a rope. Guaranteed ambiance! 
Horizon - Millau spéléologie
Horizon - Millau spéléologie
Horizon
Horizon
Horizon - Millau spéléologie
GPS : 44.0973 , 3.078829167.
Tarifs
Min
Max
Description
36 €
46 €
90 €
33 €
42 €
80 €
30 €
40 €
70 €
Horizon - Millau spéléologie
Address :
6, place Lucien Grégoire
Place Foch
12100 Millau
Phone :
+330565597860 +330672776239
Spoken languages